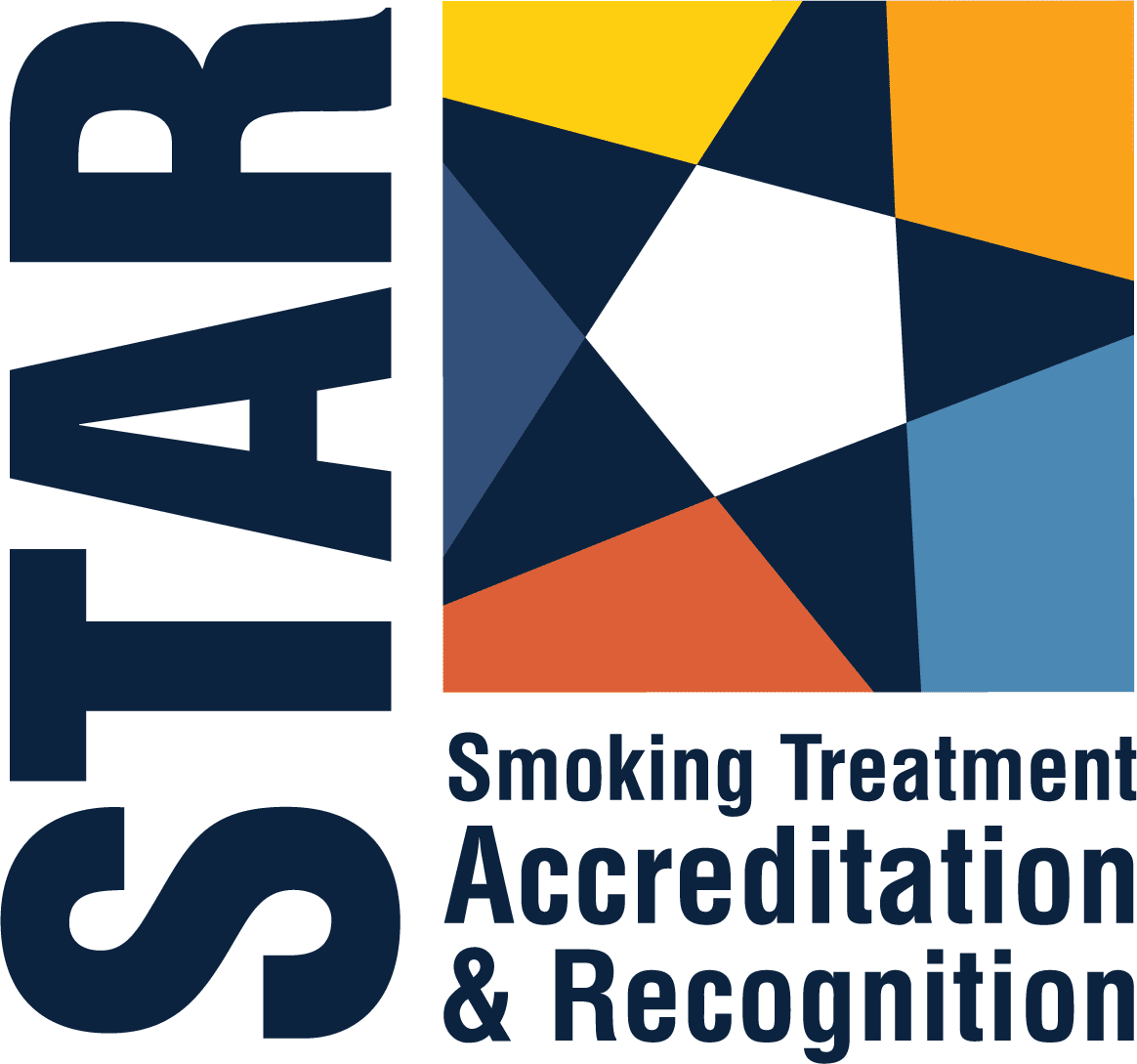 About
Smoking Treatment Accreditation & Recognition (STAR) is a tobacco dependence treatment accreditation program funded through a grant by the PA Department of Health and managed by Health Promotion Council, in partnership with the University of Pennsylvania. STAR's mission is to facilitate the integration of tobacco dependence treatment into existing healthcare workflow.  Our vision is to standardize best practices across PA healthcare systems.
Benefits
Reduce readmission
Improve patient survival
Improve patient satisfaction
Increase 3rd party referral
Lower cost of care
Shorten admission times
 Recognition for STAR Accredited Organizations:
Promoted on HPC site
Press releases and press conference
Leave-behind materials and participating healthcare organizations
Promotional Banner for lobby
Level of Accreditation
Organizations may also choose to pursue an added level of distinction by seeking COMPREHENSIVE CENTER OF EXCELLENCE status. For the Comprehensive distinction, organizations must answer all application questions. Organizations that have achieved baseline accreditation may choose to upgrade to the Comprehensive distinction at any time.
Accredited Organizations
Jefferson Health – Lung Cancer Screening Program
Fox Chase Cancer Center at Temple Health – Tobacco Treatment Program
FAQ
What is the STAR evaluation process?
Contact STAR coordinator to verify eligibility, complete the survey and gather support documentation with technical assistance. Undergo board evaluation and an on-site visit. Upon approval, partner with HPC to prepare for a press release recognizing accreditation.
Why is STAR important?
STAR's criteria are developed by multiple healthcare institutions focused on outcomes. This collaborative standard address gaps in health care systems where opportunities are missed, for changing tobacco habits.
What happen if the organization does not meet requirements?
If an organization is unable to adjust to meet criteria before the evaluation phase is over, HPC and University of Pennsylvania staff will provide technical assistanceto the organization, and will partner to set goals leading to reevaluation.
How long does the accreditation take?
Organizations can take from 1-4 weeks to complete the application. If all criteria are met, an onsite visit will be scheduled within a week. The Advisory board has two weeks following the site visit to determine approval. The press event will be scheduled for approximately thirty days after approval.
Who should complete the accreditation forms?
The forms can be completed by any member of the applying organization. It's recommended to consult with providers, administrators, and management during the drafting phase of survey.